Biometric Fingerprint & Face Attendance Machine :
Biometric Fingerprint Time Attendance Machine provide wide range of time and attendance solutions. It helps them to generate different types of time reports such as time attendance reports that are daily time reports as well as monthly reports, employee tracking, shift wise, company wise, department wise time recording also help in eliminating payroll processing, time cards, unauthorized overtime, payroll calculation. This machine is needed in Private Corporations, Factories, Government or Public Institutions, etc..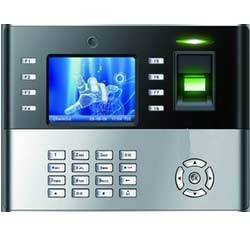 Features :

Intelligent fingerprint image capture technology for dry, oily and damp finger.
Fast 1:N identification and 1:1 verification matching speed.
Numerous template and event log capacity
Stand-alone or networked operation (TCP/IP).
Built-in auto sensing technology to extract fingerprint without pressing any button.
Built-in fake fingerprint detection technology
Configurable security level per user for registration and authentication
Face Finger Print Attendance Machine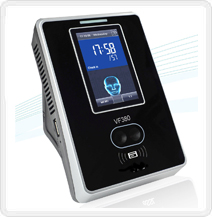 We manufacturer and supply Access Control Systems that are made using high quality material and hence require low maintenance for years. Our door access control systems are based on latest technology and provides single door to multiple door control. These control systems have time zone and door restrictions for the purpose of controlling doors. Our advanced Access Control Systems are manufactured as per the industry standards and are also capable of providing customized systems as per our client's specific requirement.
Technical Features of Face Fingure Print Attendance Machine (VF 380)
Face Capacity : 800(1:N).
ID Card Capacity : 10,000
Logs Capacity : 1,00,000
Image Sensor : Special Steno Dual Sensor.
Algorithm : 7.0 Version
Communication : TCP/IP, USB- Host.
Verification Speed : <= lsec.
FAR : <=0.0001%
FRR : <=1%
Operation temperature : 0°C - 45°C.
Operation Humidity : 20-80%
Dimension(LxHxW) : 104.70 x 160.00 x 36.00 mm .
Access control interfaces for : EM lock, Exit button.